How The Pandemic Has Changed The Way I Approach Self-Care
DESCARGO DE RESPONSABILIDAD
Este blog no ha sido aprobado por su departamento de salud local y no pretende proporcionar diagnóstico, tratamiento o consejo médico. Leer más

Este blog no ha sido aprobado por su departamento de salud local y no pretende proporcionar diagnóstico, tratamiento o consejo médico. El contenido que se ofrece en este blog es únicamente de carácter informativo. Consulte con un médico u otro profesional de la salud sobre cualquier diagnóstico u opción de tratamiento médico relacionado con su salud. La información de este blog no se debe considerar como un sustituto del asesoramiento por parte de un profesional de la salud. Las afirmaciones hechas sobre determinados productos a lo largo de este blog no han sido aprobadas para diagnosticar, tratar, curar o prevenir enfermedades.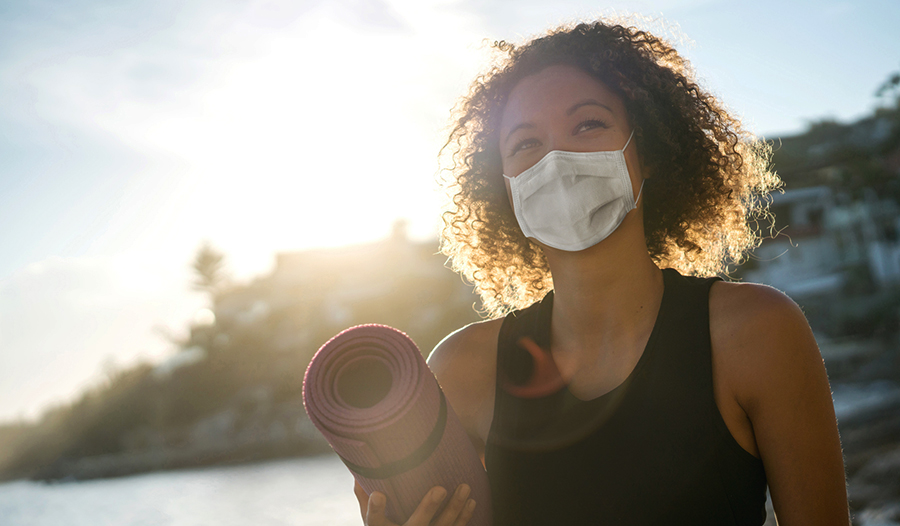 By Nikia Phoenix
In a few short weeks, the leaves will begin changing from green to yellow signaling a new season. We have seen spring and summer come and go, and yet we are still in the midst of a pandemic. Our lives have ping-ponged between uncertainty and nervousness for the majority of this year. Add to this the worldwide racial and social reckoning, protests, and the American political climate and you have a recipe for fatigue. Yes, all of this has taken a toll on our health physically, mentally, and emotionally. Even for some like myself who have a solid self-care routine, 2020 has been a challenge like nothing we have ever experienced. To be completely honest, we still have a ways to go before we can breathe easier.
If you have been feeling heavy, you are not alone. If you have been experiencing difficulty focusing on even the smallest of tasks, join the club. Collectively, we are living through extreme burnout without the necessary time needed to take a moment and assess how we are truly feeling. Whether you are juggling homeschooling your kids and working from home or worrying about how to safely leave the house to go grocery shopping, we are all struggling to figure out how to maintain our wellbeing. I'm right there on that struggle train too. The veil between home life and work life is getting blurrier and blurrier every day. Raise your hand if you've been working longer hours than before and your eyes are getting strained from all the screen time. Yes, that's me!
One of the first realizations I have had to come to is that we are all experiencing grief. For myself specifically, I have been experiencing ambiguous grief or loss. My way of life changed dramatically and I don't know when or if I will ever get it back. It's difficult to process all of this. I can't completely move on, therefore I have been frozen in this weird limbo. All the stages of grief haven't been fully realized, because I haven't been able to truly classify my feelings of despair until now. I am giving myself permission to truly feel to get to the root of my emotions.
Now that I am processing the emotions and naming my feelings and fears, I can begin again. I matter and my well being is of extreme importance. That means getting back into my self-care groove and adding a few new things to my arsenal.
Tips for Self-Care During the Pandemic
Reignite Your Self-care Rituals
I am getting back to my self-care rituals. They are good for me. Sometimes we stop doing the things that make us feel better because we believe that we don't need them anymore, when in fact, they're helping to keep us sane. Meditation is healthy for me. Yoga is healthy for me. Why would I ever abandon that which keeps me healthy, especially in this time of need?
Take Your Vitamins
Our bodies are used to getting the vitamins we require from the foods we eat and even from the sunshine. But the more time we've been spending confined and away from our former daily routines, the more our bodies are probably getting confused about where to get what we need. Taking daily multivitamins can help. I know I've definitely been vitamin D deficient because I haven't been spending as much time in the sunlight. You may also want to take vitamins and supplements to help boost your immune system during this time. As with anything related to your health, consult your doctor about what vitamins are best for you.
Take in Nature
The great outdoors can be incredibly restorative. The fresh air, the trees, and the sun on your face can all boost your mood. In the middle of the day when you're feeling tense, try going for a walk. On the weekends, maybe go on a hike or enjoy a picnic in a secluded area. I have even picked up birdwatching as a way to quiet my mind, and I love it. Nature is truly medicine for the soul.
Set Boundaries
This has been a challenge for me, but I need to be more direct about setting boundaries. That means that I have to speak up for myself and stand my ground. I was raised to be a co-dependent people pleaser, but I have come to realize that pleasing others doesn't necessarily please me. Setting boundaries is an act of love for myself and the other party involved. It means "here is what I require in this relationship and here are my limits." And this isn't limited to personal relationships. We need to set boundaries when it comes to working from home. Know when to take a break. Know when to clock out for the day. We can burn out so easily when we don't have boundaries in place to keep us healthy and sane. Your time is yours and it is precious. You don't have to feel guilty about standing up for what you need.
Sneak in a Nap
When I was a kid, I did not like naptime. But now that I'm older, I absolutely love it. Naps especially help when I didn't sleep soundly during the night. When I find myself fatigued and cranky, a catnap is exactly what I need. I can slip on a sleep mask, maybe rub a bit of sleep balm on my chest and temples, and be snoozing in no time.
Try Aromatherapy
My essential oil usage has most likely tripled since the pandemic started. Aromatherapy is exactly what it sounds like: it's therapeutic. Whether it's lighting a candle while I read a book or rubbing lavender oil on my pressure points before I meditate, aromatherapy allows me to slip into tranquil spaces to ease my spirit. I can focus on my breath and take a moment to calm myself with fresh scents and essential oils.
Wind Down the Day
This has become a paramount ritual of mine. I have observed my friends with young kids and their bedtime routines. They take a bath, brush their teeth, and climb in bed for a story before falling asleep. These acts prepare the kids to really wind down to hopefully get a good night's sleep. Just because we're adults doesn't mean we don't need these bedtime rituals ourselves. I have been taking long, hot showers and scrubbing off the dirt of the day. I get out of the bathtub and take my time to moisturize my skin with oils or body butter. Maybe I'll do a face mask. Don't forget the eye cream. Then I climb in bed and I write. Journaling at night allows me to empty my mind of all the chatter and negative thoughts that can accumulate throughout the day. When I wind down and relax, I am setting myself up for some of the best rest ever and I am able to start a new day refreshed and ready.
To say that 2020 has been a challenge is huge understatement. I often find myself hovering somewhere between cloud nine and disbelief. Some days I honestly just want to roll into the fetal position and cry. I have experienced racial injustice and the fatigue that comes with it. Over the past months, I've had family members pass away and have not been able to fully mourn their deaths. Or what about all the birthdays we've missed and lives we have not been able to celebrate. We are learning more and more about how precious life truly is. We are also learning just how resilient we can be in the face of adversity.
As James Baldwin once said, "Not everything that is faced can be changed, but nothing can be changed until it is faced." I know this may sound strange to say even with all the pain going around, but I have seen with my own eyes that there are blessings hidden in the calamity. I am learning to take absolutely nothing for granted. Remember that healing is a process, so give yourself grace as we navigate through this pandemic. This is definitely unchartered territory for all of us.